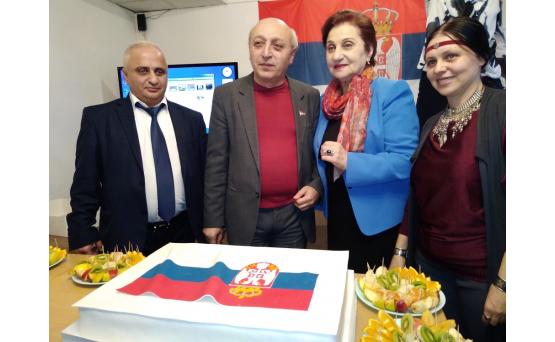 "
The Voice of Armenia
", an Armenian newspaper published in Russian, carried an article about the celebration of the Serbian Statehood Day which took place at the Serbian Consulate in Yerevan.
The article stated that the celebratory event was hosted by the Honorary Consul of Serbia, Mr. Babken Simonyan, who invited scientists, writers, translators, publishers and other representatives of Armenian science and culture for this music and literature-themed evening.
"Some of them have forged ties with Serbia through their activities, others have visited this fascinating Balkan country and hold it in fond memory, while for the rest the event was an opportunity to get to know Serbian history, culture, literature and science. A selection of photos was combined with Serbian traditional and patriotic songs, Serbian poetry translated to Armenian, Armenian poetry translated into Serbian, and also poems devoted to Serbia. The translations and poetic pieces are to be credited to Mr. Babken Simonyan", the article notes.
Towards its end, the article lauded the activity and oeuvre of the Honorary Consul, recalling that his new collection of poems entitled "I Know Who I Am" will to go press soon as well as the book "Notes of a Consul", compiling his writings about meetings and events from the past 10 years of his cultural and diplomatic mission as an Honorary Consul, testifying to the development of Serbia-Armenia relations.