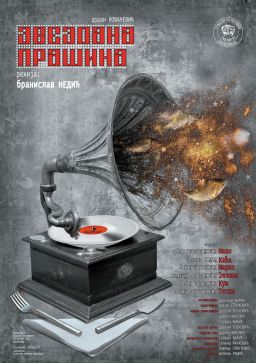 Play "Stardust", based on a text by Dusan Kovacevic and performed by "Theatre 91" from Aleksinac, took place on 24 March in "New Star Art" theatre in Athens. With support of the Serbian Embassy, this guest performance was co-hosted by the city of Lavrio, Lavrio-Aleksinac Friendship Association and the municipality of Aleksinac.
In their remarks following the play, Ambassador Dusan Spasojevic, mayor of Lavrio Dimitrios Loukas and Vice-President of the municipality of Aleksinac Cedomir Rakic recalled the extensive assistance to Aleksinac from the city of Lavrio during the NATO aggression against Serbia in 1999 and the cooperation between the two twin cities. Meetings, cooperation between sport clubs and youth associations are organized annually. Every year, the municipality of Aleksinac covers the costs of the visit by a large number of children from Aleksinac to Lavrio, and the city of Lavrio is a regular guest at the events organized by the municipality of Aleksinac.
In memory of the victims of the NATO bombing of FRY, Serbian priests in Athens held a memorial service on 24 March at the St. Marina's Church in Ilioupoli, a municipality of Athens.